Our Estate Wines
Representing Time and Place
As a boutique winery, we take pride in our attention to detail and our commitment to small-batch production. This allows us to carefully oversee every step of the winemaking process, from grape to glass, ensuring that each bottle embodies our vision of elegance and finesse. Whether you're a seasoned wine connoisseur or a casual enthusiast, our diverse portfolio of varietals and blends offers something to please every palate.
We strive to cultivate an expression of time and place in each of our wines. Seeking to capture the true nature of our cool climate, our wines are expressively vibrant, refreshing and pair well with a range of foods. Winemaker, Kasey Wierzba creates our wine with a philosophy focused on expressing the natural flavors and aromas of the fruit balanced with a precision that is ushered through science and technique. We produce 7,000 cases of wine in a single year, making each bottle special, unique and limited.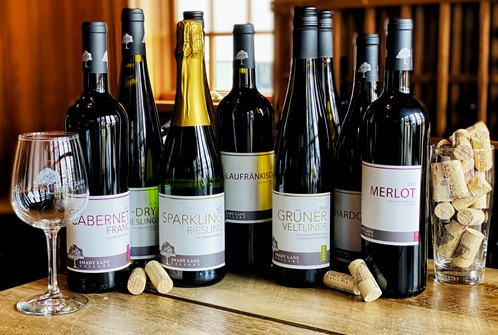 ---
Sparkling Wine
---
2021 Sparkling Riesling
100% Riesling | Leelanau Peninsula | Off-Dry 
| 600 cases
Sparkling Riesling is one of the original Shady Lane Cellars wines. To this day it stands out with balanced fruit, spice, toast and mouthfeel. Our Sparkling Riesling is produced from blocks M, I and N which collectively consists of three different clones; 49, 198 and 239. The fruit was hand harvested and the primary fermentation was managed to express the fullest potential of fruit and floral aromas and flavors. The second fermentation was conducted as cuvée close to respect the fresh aromas and flavors. This lively wine radiates flavors and aromas of stone fruit, green pear and limoncello. A wonderful wine for everyday occasions! 
---
Estate White Wines
---

2021 Grüner Veltliner - Hennessy Vineyard
100% Grüner Veltliner | Leelanau Peninsula | Dry 
| 150 Cases
Tucked away, on a ridge between Lake Michigan and Lake Leelanau we discovered a vineyard among the hardwoods. In 2013 we had the pleasure of making our first Grüner Veltliner from this hidden vineyard and 2016 was a beautiful vintage to follow it up. The fruit was hand harvested, destemmed and pressed. The slow, steady month long fermentation produced flavors and aromas of crisp Asian pear, citrus, green tea and minerality. An expressive cool climate white that pairs nicely with light summer fare, seafood, poultry and shellfish.

2021 Pinot Gris - Hennessy Vineyard
100% Pinot Gris | Leelanau Peninsula | Dry | 490 cases
We celebrate this vintage with the sun kissed season of 2019. The growing season was warm and dry on the southerly facing slope at Hennessy Vineyard, where harvest took place on October 4th. Over 13 days the wine was fermented to dry and then aged in stainless steel for seven months prior to bottling.
The Pinot Gris is anchored in aromas and flavors of chamomile, pear and green melon. The weight of the mid palate carries hints of almond to a finish of saline minerality. Perfect for summer; think fresh when pairing with food.

2017 Dry Riesling
100% Riesling | Leelanau Peninsula | Dry | 302 Cases
After a steady growing season our Dry Riesling grapes were harvested from block M. Block M sits at high elevation on the property and always provides fantastic, balanced fruit. This block is planted in the official French Riesling clone 49 which is dependable and consistent. The intentional selection of yeast has allowed us to create a wine with intense flavors of apricot, melon, lime zest and honeysuckle. A hint of petrol on the nose pays homage to the rich terpenes that set this variety apart. Shady Lane Cellars' Dry Riesling is the perfect accompaniment to fresh and saltwater fish, shellfish, Asian and Latin cuisine.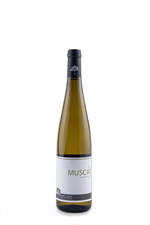 2018 Muscat
100% Muscat | Leelanau Peninsula | Dry | 90 cases
Muscat is one of the oldest grapes with a rich history as being the first grape to be brought to early western Europe by the Romans. The Shady Lane Muscat is hand-harvested from our Estate vineyard and pressed into an expressively aromatic juice. The long, cool fermentation brings aromas and flavors of orange and apple blossoms, tangerine and guava with a crisp, refreshing finish. Enjoy this wine while preparing dinner, but do your best not to drink the whole bottle! If you have a second bottle, serve with delicate cheeses, ceviche' and light Mediterranean.

2020 Semi-Dry Riesling
100% Riesling | Leelanau Peninsula | Semi-Dry |770
The estate grown Semi-Dry Riesling is the flagship of Shady Lane Cellars. Our sandy, gravel soils hold heat, readily drain and contribute to this intensely aromatic wine. The vines are maintained throughout the season for balance and sunlight penetration to the fruiting zone which increases terpene development. This wine is composed of four different clones and comes from several different estate blocks. It was fermented in small batches using different yeasts to increase complexity. This vintage imparts flavors of orange blossom, green apple and fresh citrus. Fermented and aged in stainless steel this wine shows some sweetness up front but finishes bright, clean and crisp.
---
Pink + Orange Wine
---

2021 Pinot Noir Rosé
100% Pinot Noir | Leelanau Peninsula | Dry | 200 Cases
Our beautiful Pinot Noir was hand harvested and immediately loaded into the press for a sixteen-hour cold soak. The brightly colored juice was then fermented in 100% stainless steel to capture the fresh aromas and flavors. Resting on fine lees for several months provides creaminess and texture. This wine brings ripe strawberry, green apple, and hints of fresh orange peel.
2020 Pomeranz - Skin ferment Riesling 
100% Riesling | Leelanau Peninsula | Dry | 100 Cases | 90pts WE
Orange, amber and esoteric. Discover Pomeranz, our skin fermented Riesling. This limited project pulls its name from the old Germanic word for importer of bitter Seville oranges. Skin fermented white wines are fermented much like a red wine, extracting color and tannin from the skins. These wines are also known as Orange Wines or Amber Wines. Today skin fermented whites are rare and unique, but they have a deeply rooted history going back 5000+ years to the country of Georgia. A wine for bold palates with aromas and flavors rooted in dried apricot, orange peel, raw honey, white tea and earthy notes. A lift of acid and texture carry to the dry, rich finish.
---
Red Wines
---

2019 Pinot Noir
100% Pinot Noir | Leelanau Peninsula | Dry | 342 Cases 
During the rush of 2016 harvest we took a deep breath and brought in the Pinot Noir. The grapes were hand harvested on October 28th, destemmed and cold soaked for three days. The fruit was then fermented with several yeast in small open top containers. Secondary fermentation and aging took place in 40% new French oak and 60% neutral French oak. We were pleased to let this wine age in oak for 16 months, which is seen in the lush and soft mouthfeel.  Our Pinot Noir delivers flavors and aromas of black cherry, raspberry, pomegranate, cocoa, cola, black tea, orange peel, brown baking spice and a hint of smokiness. Pairs beautifully with robust cheeses and charcuterie, grilled salmon with red wine sauce and beef braised with mushrooms.
2018 Cabernet Franc
100% Cabernet Franc | Leelanau Peninsula | Dry | 276 Cases
The long fall of 2017 provided extended maturation for our Cabernet Franc which was harvested the first week of November. The vintage brought fruit with elegant tannins and fresh dark berry flavors with a balance of cool climate acidity. The fermentation took place over 19 days in open-top fermentation bins. The use of four different yeast strains added to nuance and complexity in the finished wine. After the primary fermentation the wine was put into barrel and malolactic fermentation began.
This Cabernet Franc brings a pop of violets and pomegranate that meld into flavors of dark dried cherry and hints of sage. Sweet tannins and baking spice are compliments of 18 months in 100% French oak barrels. 

2020 Franc 'n' Franc - Coming Soon
44% Cabernet Franc 44% Blaufränkisch 12% Merlot | Leelanau Peninsula | Dry | 112 Cases 
Estate grown Cabernet Franc, Blaufränkisch and Merlot were blended together creating our proprietary blend Franc 'n' Franc. After harvest these red grapes are destemmed and cold soaked for three days. Small fermentation lots are then inoculated with different yeast, adding complexity to the blend. Secondary fermentation and cellar aging takes place in French oak, where tannins soften and a round mouthfeel develops. Red and blue fruits of fresh plum, raspberry, mulberry, vanilla, cocoa, lavender and spice layer together with lush, full tannins bringing richness and structure to the finish. This red wine is a true reflection of cool climate perfection.

2020 Blaufränkisch
100% Blaufränkisch | Leelanau Peninsula | Dry | 190 Cases 
Blaufränkisch happens to be one of Austria's flagship red varieties, with over 8,000 acres planted.
Here at Shady Lane Cellars, we have a modest 3-acre plot of Blaufränkisch, otherwise known as Lemberger in Germany, and although our plot may be small, it produces wine with big personality. The Shady Lane Cellars Blaufränkisch is a dark red wine with layers of blueberry, blackberry, and mulberry fruit. A hint of black pepper and cedar spice finish this wine with aged, lush tannins and big mouthfeel.
---
Late Harvest Wine
---

2021 Late Harvest Riesling
100% Riesling | Leelanau Peninsula | Sweet | 300 Cases
Braving the cold weather of December, we worked to harvest Riesling condensed and sweetened by botrytis.  This concentrated dessert wine carries bright notes of candied lime, orange and pear.  A perfect end to a fine meal.  
---
Coop de Blanc
---

2017 Coop de Blanc
100% Vignoles | Leelanau Peninsula | Semi-Sweet | 670 Cases
Every year we begin harvest with Vignoles! This grape is truly a flavor fiesta with fermenting aromatics of juicy pineapple, tangerine, honey, white flowers and ginger. In 2014 we harvested Vignoles for the Coop de Blanc on October 17 and 19. The Coop de Blanc carries sweetness, however it is balanced with acidity for a refreshing finish. Enjoy with grilled chicken, fresh fruit and anything in your picnic basket!
---
---
---