Monday June 6, 2016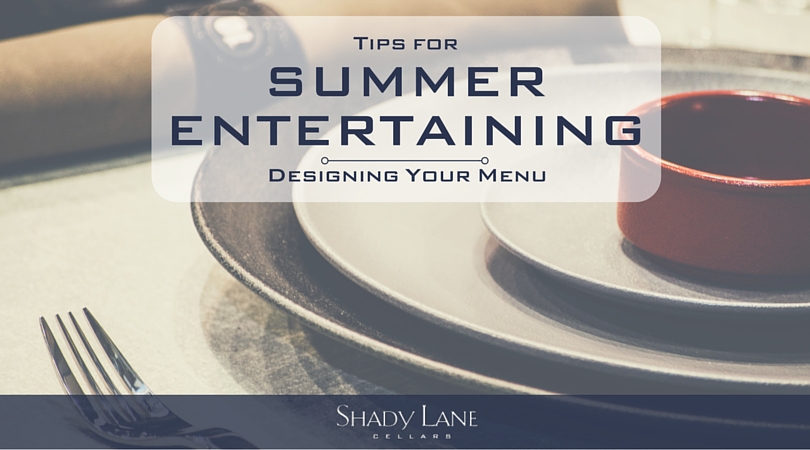 Set Your Menu in Advance and don't be afraid to ask your guests to contribute
Think about what you would like to serve and write it out.  Make a list of all the dishes you would like, and their ingredients.  Shop in advance and prepare as much as you can ahead of time.  Choosing dishes that can be prepared in advance will help you work less and enjoy the party more.  Check the recipes below for some quick and easy crowd pleasers that can be prepared in advance.
When planning the menu, think about how and where your guests will eat.  If you do not have seating for everyone avoid food that needs a fork and knife.  Also consider where the food will be stored and served, shrimp cocktail can be delicious, but only if you can keep it chilled
Everyone likes to contribute, and they will ask to.  It is OK to say yes, or even plan on it.  It's also nice to provide everything, so again plan ahead and stick to it.  Ask all of your guests to bring one dish, but ask them to share with you, or everyone invited (another bonus to use an invitation!) so you ensure you don't have 6 desserts and 1 entrée.  As well, you can offer to provide the food, but request everyone bring the beverage of choice.  This can help reduce cost and ensure everyone has what they would prefer to drink.
Couscous with Feta and Tomatoes
Ingredients
2 Cups Pearl Couscous
1 Lemon
¼ Cup Extra Virgin Olive Oil
1/8 Cup White Balsamic Vinegar
3 Large Basil Leaves
2 Tbs. Fresh Chopped Italian Parsley
1 Cup Cherry Tomatoes
½ Cup Crumbled Feta Cheese
Salt
Pepper
Directions
Cook pasta per directions on the package (will be similar to cooking pasta).  Rinse with cold water and set pasta aside.  Slice all of the cherry tomatoes into halves or quarters based on your personal preference.  In a large bowl, squeeze the juice from 1 lemon, add the white balsamic vinegar and fresh parsley.  Whisk in the olive oil until it fully incorporates.  Next add the tomatoes and fresh basil.  Mix in the cooked couscous and feta cheese.  You will want to ensure the couscous has cooled so it does not melt the cheese. Fold everything in until completely coated and evenly distributed. Salt and pepper to taste, and serve!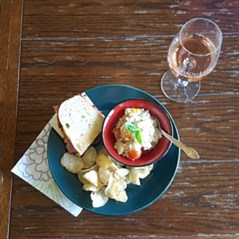 Quick Tip: Add grilled chicken or any of your other favorite ingredients to make it a full entrée.
Wine Pairing: Shady Lane Cellars 2013 Grüner Veltliner
Rick DeBlasio

General Manager - Shady Lane Cellars