Monday December 12, 2016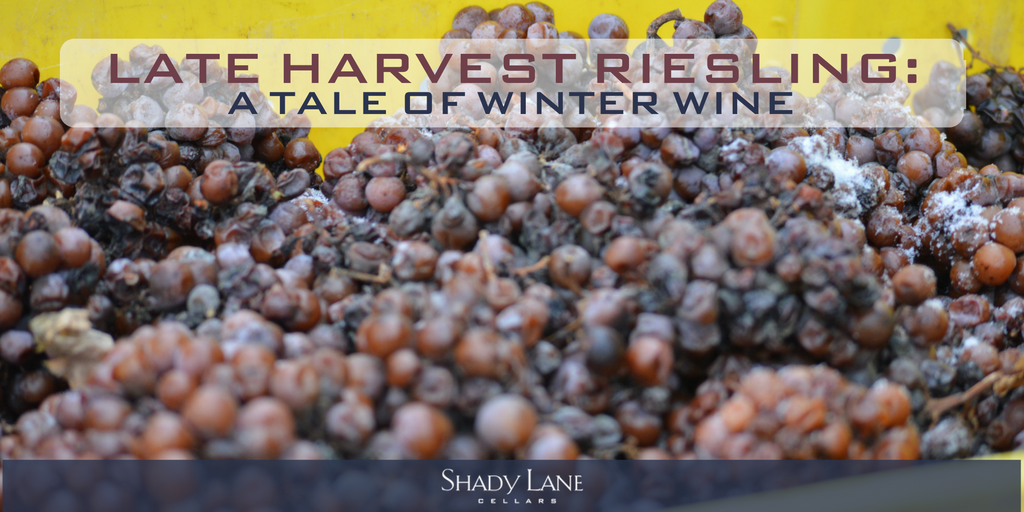 Andy's Holiday Advice Column...Oh and late harvest wine talk too
It is that time of year again- holiday parties, gift buying and giving, mistletoe smooches with your special someone, crackling fires, bad sweater parties, and strange desserts that have no business being made- put down that fruitcake recipe!  It is also the time of year to think about and drink about a bottle or four, of your favorite Late Harvest wine or Icewine.  These are also known as dessert wines.  This style of wine gets its name from being invariably paired with desserts, or even being the dessert itself.  So what is the difference between the two, and why are they special?  Let's take another sip as we dip into the pool of facts on these wine types.  Don't worry; we will be brief, then we can get back to talking about how to drink more wine.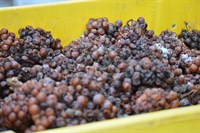 Late harvest wine is made from grapes that have been left on the vine for longer than usual.  The exposure to freeze/thaw cycles dehydrates the fruit, resulting a concentration of sugar, acids, and flavors.  This concentration effect is exactly what makes late harvest wines special!  There are few rules as to how long this period is, so quality can be variable with late harvest wines.  Some producers only wait another week or two longer, then add whatever extra sugar needed to make their version sweet enough.  These wines don't offer the wonderful and ephemeral aromas and flavors that should intoxicate you with joy when you enjoy a glass of late harvest. We wait 6-8 weeks for nature to do the sweetening.
Icewine follows the same concept as late harvest but takes it a step further.  Instead of concentrating the juice via the freeze/thaw cycle, producers wait until sustained temps of 17 F or below arrive.  Many producers even prefer to go a little colder, in the 10-15 F range.  So there is room for producers to choose the degree of juice concentration, and resulting sweetness levels.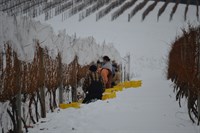 We at Shady Lane Cellars strive for a style of late harvest that is so late it requires good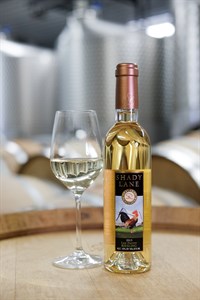 mittens, a really warm pair of long underwear, and hardened men and women of the north to pick it.  It lies somewhere in between the cold November pre-winter days and the frigid Icewine harvest temps.  It is the drink of kings and queens, yet harkens imagery from a land of wildlings.  It is ambrosia.  Our 2012 Late Harvest Vignole was harvested on 12/7/12 at 33 F.  Its 8% residual sugar marries well with the 10% alcohol, and offers aromas of baked apples, honey, and a hint of caramel on the finish.  Hurry, we are down to a few cases.   We took it a step further for our 2013 Late Harvest Riesling, waiting until December 19 and a harvest temp of 23 F.  This is an intense wine, it gushes aromas of guava and candied pineapple, with hints of honey and a balanced lingering finish.  
During this past October, we selected a block of Riesling to save for our version of late harvest.  We covered the rows with bird netting to protect the fruit from interested animals and waited for winter.  Now we are readying ourselves, preparing for battle with mother nature, for it will be cold upon our harvest date.  We are waiting for low enough temperatures so that we achieve a high degree of concentration.  Our target date of December 14 is forecasted to be between 15-18 F.  This will provide luscious, syrupy concentrated juice, cold fingers and toes, and big smiles on faces that are happy to end a long and rewarding harvest season with a bang.
Now we promised we would discuss how to drink more wine.  Wine is a wonderful social lubricant for bonding with that crazy uncle at your family Christmas.  You can enjoy a glass while cuddled with your honey next to a roaring fire.  Don't be the one who brings yet another bottle of west coast chardonnay to that work party, bring something to get people talking, bring some late harvest Riesling.  Wear that ugly Christmas sweater, after a few extra glasses of wine people will be laughing with you instead of at you!  And go ahead and bake that damn fruitcake, if you drink enough wine you won't even remember eating it.
Merry Christmas and Happy Late Harvest Riesling drinking!
*please remember to drink responsibly this Holiday season
-Andy Fles
Andy Fles

Vineyard Manager - Shady Lane Cellars