Monday July 25, 2016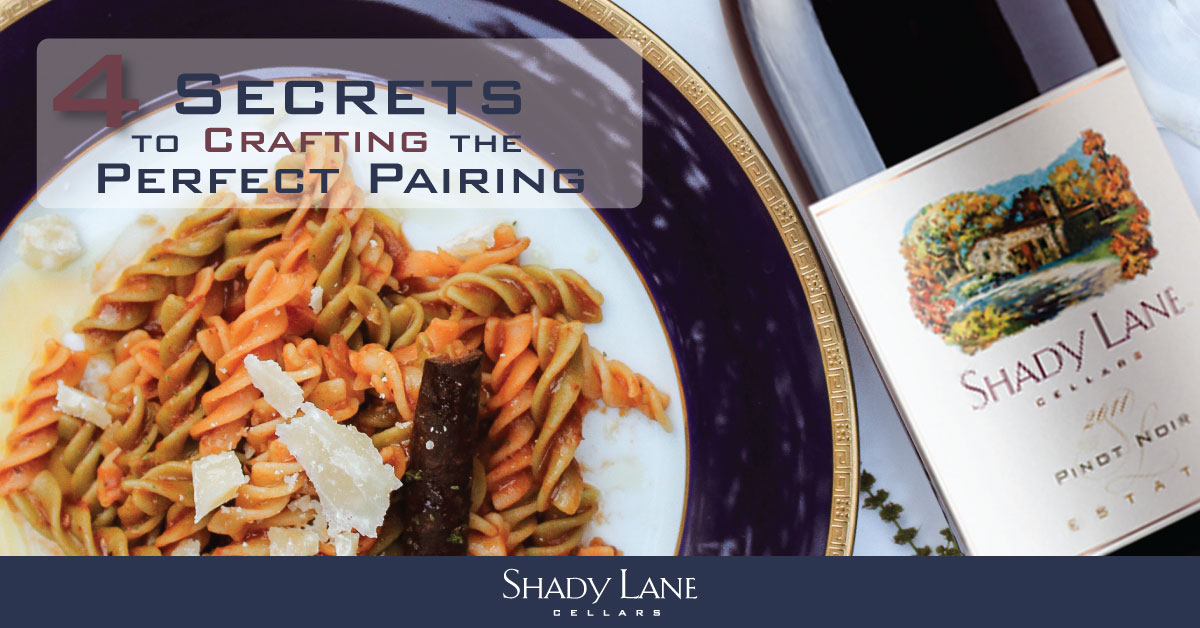 4 Secrets to Crafting The Perfect Pairing
Food and wine were meant to be together! There's nothing more enjoyable than sharing a glass of wine and breaking bread with good company.
However, the talking heads out in the food and wine world (myself excluded of course…) have a tendency to intimidate us with the notion of pairing our wine with our food, and why not? If you go to a restaurant, it's important for the staff to suggest what you should drink and eat. While that can be part of the experience, it can sometimes get in the way of the experience.
Don't get me wrong, the right or wrong wine can certainly impact your meal, but I like to take a more casual approach. Ultimately, life is too short to not to drink and eat the things you enjoy! 
Follow along for some easy tips on how to make the best match at your next meal:
1. Ignore the oldest rule in the book: "White Wine with fish and white meat, Red wine with red meat".
While this has value, there are far too many exceptions and variables: flavor profile, alcohol content, sweetness vs. dryness, acidity, personal preference – not to mention food preparation.
2. Get more specific about flavor and composition of both the wine and the food.  Here are some great examples:
Match power with power and lightness with lightness. Rich, full wines deserve to be paired with rich and full foods. And vice versa. Think a Malbec and Pot Roast or Grüner Veltliner with Whitefish

Acidity cuts through fat and protein. A lush, bright wine will cut through the fat and refresh the palate. Think Blaufränkisch and Grilled Pork Tenderloin.

Match sweetness with spiciness. Dryness can be unpleasant when matched with spice, a little fruit or sweetness goes a long way to subdue the spice and make it more enjoyable and less eye-watering. Think a Semi-dry Riesling with Thai Chicken Fried Rice.

Food preparation matters. How the food is prepared will impact your decision, so consider the dominant flavors, richness, and intensity of a dish before choosing your wine. Think an Unoaked Chardonnay with Grilled Chicken Breast vs. Sangiovese with Chicken Parmigiano.

Compliment or Contrast. Complimenting characteristics between the food and wine can certainly enhance flavors, but also consider contrasting elements which can add a surprising harmony to the match. Think Late Harvest Riesling with Lemon Cheesecake vs. Gewurztraminer with Coconut Curry Chicken.
3. Start with wines you like and work out from there.
Understand your preferences, but don't be afraid to try new things. If you drink bone dry whites but are having a particularly spicy dish, try a Gewürztraminer or Semi-dry Riesling, work in a small progression.

If your preference is for red wine, try Pinot Noir or Gamay to compliment lighter fare.  
4. Lastly, pair Shady Lane Cellars wine with everything! Just kidding...or am I?
Have fun and enjoy your meals. Drink and eat the things you enjoy because the truly perfect pairing is about the person and the experience!
Rick DeBlasio

General Manager - Shady Lane Cellars