Monday September 19, 2016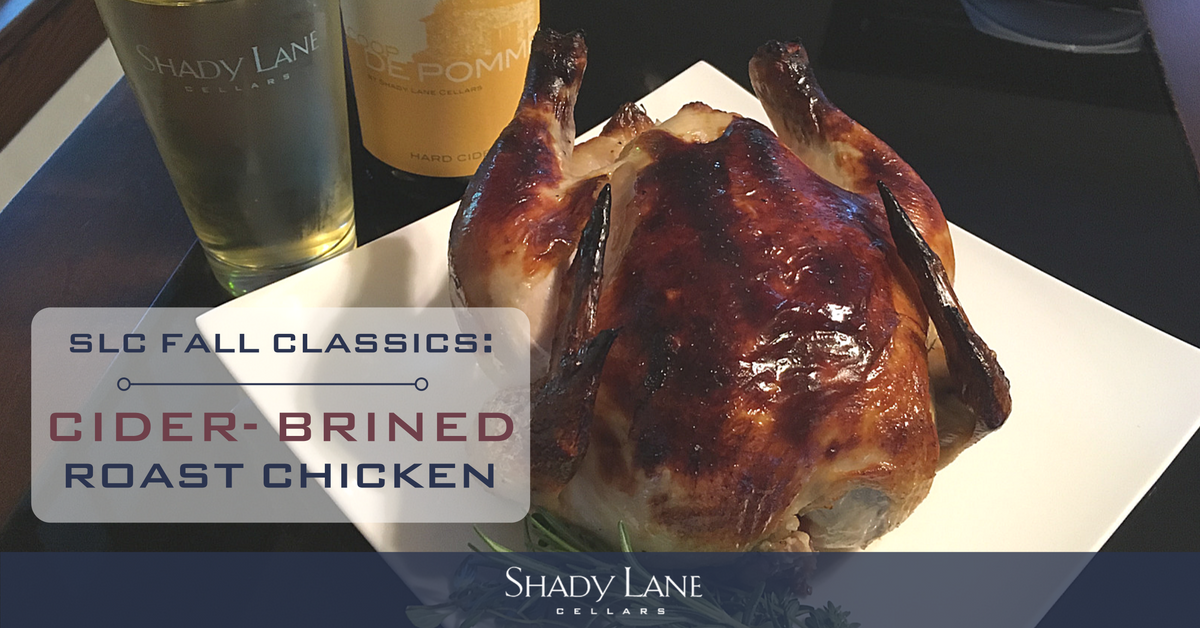 Shady Lane Cellars Cider Brined Roast Chicken
Roast chicken is one of my favorite things.  Simple, yet flavorful it is a versatile and comfortable meal sure to please a variety of palates.  And what better compliment to it, than Shady Lane Cellars hard apple cider.  Check out the recipe below for a great Cider brined roast chicken that packs a powerful burst of flavor.
Ingredients
25oz (1 bottle) Shady Lane Cellars Coop de Pomme Hard Cider
2 Cups cold water
6 Sprigs fresh Rosemary
1 Bunch fresh Thyme
3 Tbs Honey
1/8 cup Kosher or Sea Salt
2 Tbs Cracked black pepper
3 Cloves of Garlic
1 Shallot
1 Whole Chicken (approximately 5 lbs)
Cider-Brine
In a large bowl or pot (large enough for the chicken and the brine) add your Cider and Water.  Chop 4 sprigs of Rosemary and 2/3 of the Thyme (saving the rest) and add to the liquid, along with the salt, pepper, and honey.  Mince the shallot and garlic next and add to the brine.  Stir to incorporate all ingredients as evenly as possible.
Trim the excess fat from your bird. And submerge completely in the liquid brine.  Place in the refrigerator for 3-6 hours.
Roast Chicken
Preheat your oven to 475° (depending on your oven it may need to be higher or lower).  Remove the chicken from the brine and pat dry.  Chop your remaining rosemary and thyme, and with your first finger, create a cavity under the skin of the breast and insert the fresh herbs.  You can use a roasting pan, or a 10" iron skillet works great as well.  Preheat the pan in the oven.  Remove the pan from the oven and add the chicken breast side up.  You should hear it begin to sizzle.  Place the pan in the oven and cook for approximately 25 minutes.  If the fat is burning, turn the oven down slightly, if the skin does not brown and bubble, turn the oven up slightly.  After 25 minutes, flip the bird so it is breast side down for approximately 15 minutes, and then flip it breast side up again to crisp the skin, approximately 5-10 more minutes.  Total cook time should be between 50 minutes and 1 hour.  Once finished cooking allow the chicken to rest for 15 minutes before cutting, serving.  Enjoy with your favorite sides and a pint of Coop de Pomme!