Wednesday May 4, 2016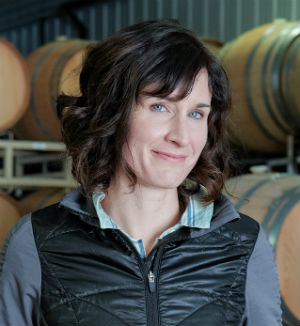 Kasey Wierzba
Winemaker
Shady Lane Cellars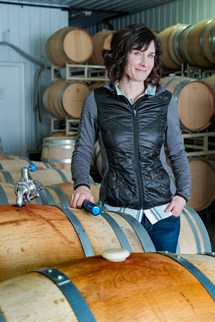 Kasey Wierzba has worked under Adam Satchwell as the Assistant Winemaker at Shady Lane Cellars since 2013.  In March of 2016, Kasey was promoted to Winemaker, a role where she will continue to utilize her creativity and detailed focus to craft expressive cool climate wines.  
Kasey has both a Bachelor's degree and a Masters degree from Michigan State University in horticulture with a focus in viticulture and wine making. She spent the first 7 years of her career in Napa Valley where she worked as a viticulturist for Frog's Leap, Rudd and Far Niente.  Her most recent role was at Far Niente where she worked with their 5 different wineries and was involved with all aspects of their vineyard operation. While at Rudd in Oakville, she worked particularly during harvest alongside the winemaker.  Her first stop in Napa was at Frog's Leap where she oversaw the vineyard operation of 250 acres working directly with the winemaker.  A Traverse City native, Kasey and her family moved back to the area in 2012.
We are super excited to have Kasey at the helm.  She brings a great attention to detail and focus that shows in the wine she produces.  The core of what we do at Shady Lane will remain closely tied to the traditional styles of wine we have produced, but we also have a renewed focus towards the future and Kasey is a large part of that.  We have a great team and are very excited about the future for Shady Lane Cellars.