Friday April 10, 2020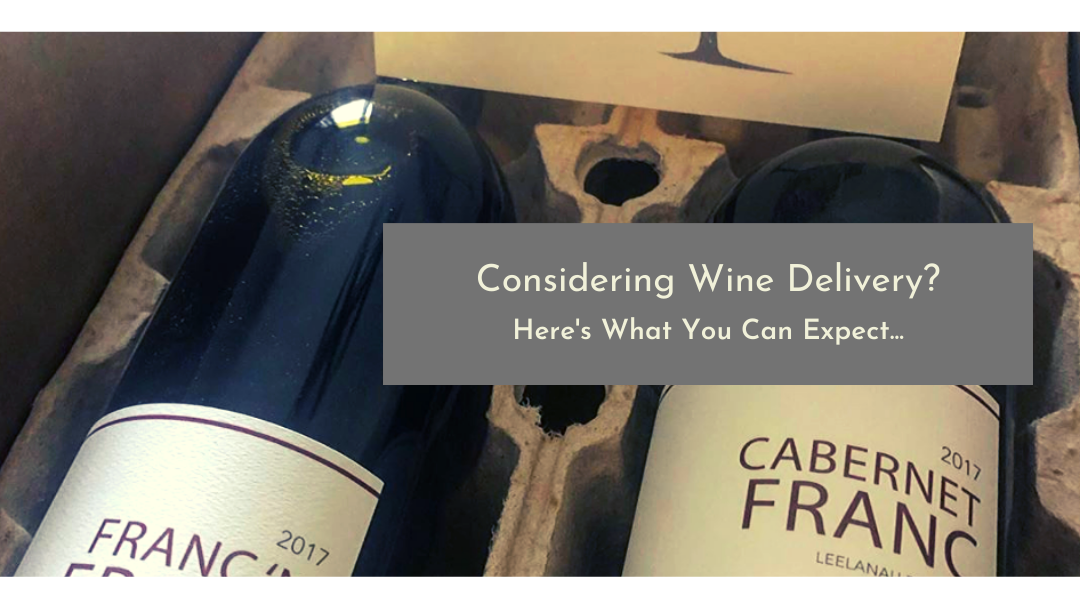 At a time where we're all staying home and staying safe, home delivery has become more useful than ever. While groceries, paper products and medicine are the most-sought items, it is also possible to add your favorite wines to your delivery list. According to Forbes.com, online wine sales have increased 66 percent over the same period last year.  
If you've never ordered a wine shipment, or might be doing so more often, we have some friendly advice to share. 
Most wineries offer direct shipping. They may not ship to every state, so it's worth the time to do some research and check on brands you know and love – or those that are local and worth a try.
Rick DeBlasio, our general manager at Shady Lane Cellars, says he tends to avoid general websites like wine.com when looking to order wine online. And for good reason.
"You're better off buying directly from wineries - particularly smaller or independent wineries," he says. "Larger wineries are set up to drive most sales through distribution and often the direct pricing is higher, where independents survive on direct sales and often have a better product selection."
Once you've determined a winery or two to try, choosing wine is the next step. 
"I always recommend first that individuals start with their own preferences and work from there," DeBlasio says. "I tend to drink a little more red in the winter and more white in the summer for example, but I also consider when and how I am consuming. If you're not eating, I often recommend whites and rosé. Once food is introduced I move to a broader spectrum. 
"Spring in particular makes me think of crisp whites like Grüner Veltliner, as well as wines like Rosé and Pinot Noir." 
Even when you don't have a chance to sample wines on site or ask a sommelier for advice, you're not alone in making the decision. Look for wines that are similar to what you typically enjoy but don't be afraid to try something new.
"It's a great opportunity to expand your palate," DeBlasio says.
And remember, help isn't far away. 
Don't be afraid to reach out to the winery directly if you have questions about your selection. Whether it is an email through the Contact Us page on a winery's website, a message on a winery's Facebook page, or even a phone call, the staff should be more than happy to help.
Once you've got your eye on which wines you'd like to try, you might be wondering just how much wine to have shipped at one time. It's a personal preference but stocking up can make financial sense. Do the math.
"Shipping 12 bottles - even if it costs more than $20 dollars - is a better value than shipping 1 bottle for $10 or $11," says DeBlasio. 
As a rule, he suggests that customers purchase no fewer than four bottles for delivery, but if possible, 12 or more bottles often reflects savings. Keep an eye out for tiered discounts. For example, if 12 bottles comes with a 15 percent discount, depending on the price of the wine, that could ultimately result in a wash on the shipping cost. 
Currently many wineries are offering deals like flat rate shipping or – now at Shady Lane Cellars – shipping for a penny using the code #PENNYSHIP.
"There is usually a worthwhile incentive to grab that extra bottle," DeBlasio says. 
Wine is one delivery that everyone wants to arrive quickly.  
"Right now for local customers we have been averaging around 48-56 hours from time of order to delivery," DeBlasio says. "For those outside of Michigan, add another day on top of that."
In general, the whole process could take at most 10 days – to fulfill an online order and get it to a delivery service and then out to the customer. Wineries like Shady Lane Cellars primarily ship wine using UPS ground, which averages from 2-4 days in shipping, depending on where customers live.  
Once those wines arrive, they should be safely packed with inserts and boxes for the specific quantity purchased. 
For those who enjoy wine and tend to always like having some around, wine delivery is worthwhile. And if it's something you regularly purchase, you can inquire about wine club perks – which tend to offer better pricing, shipping deals and more. 
"Even beyond the regular shipments, if you enjoy wine it gives you better access to order from and stay connected to a particular producer," says DeBlasio. 
Learn more about Shady Lane Cellars or order wine for delivery for penny shipping at ShadyLaneCellars.com.