Tuesday May 3, 2016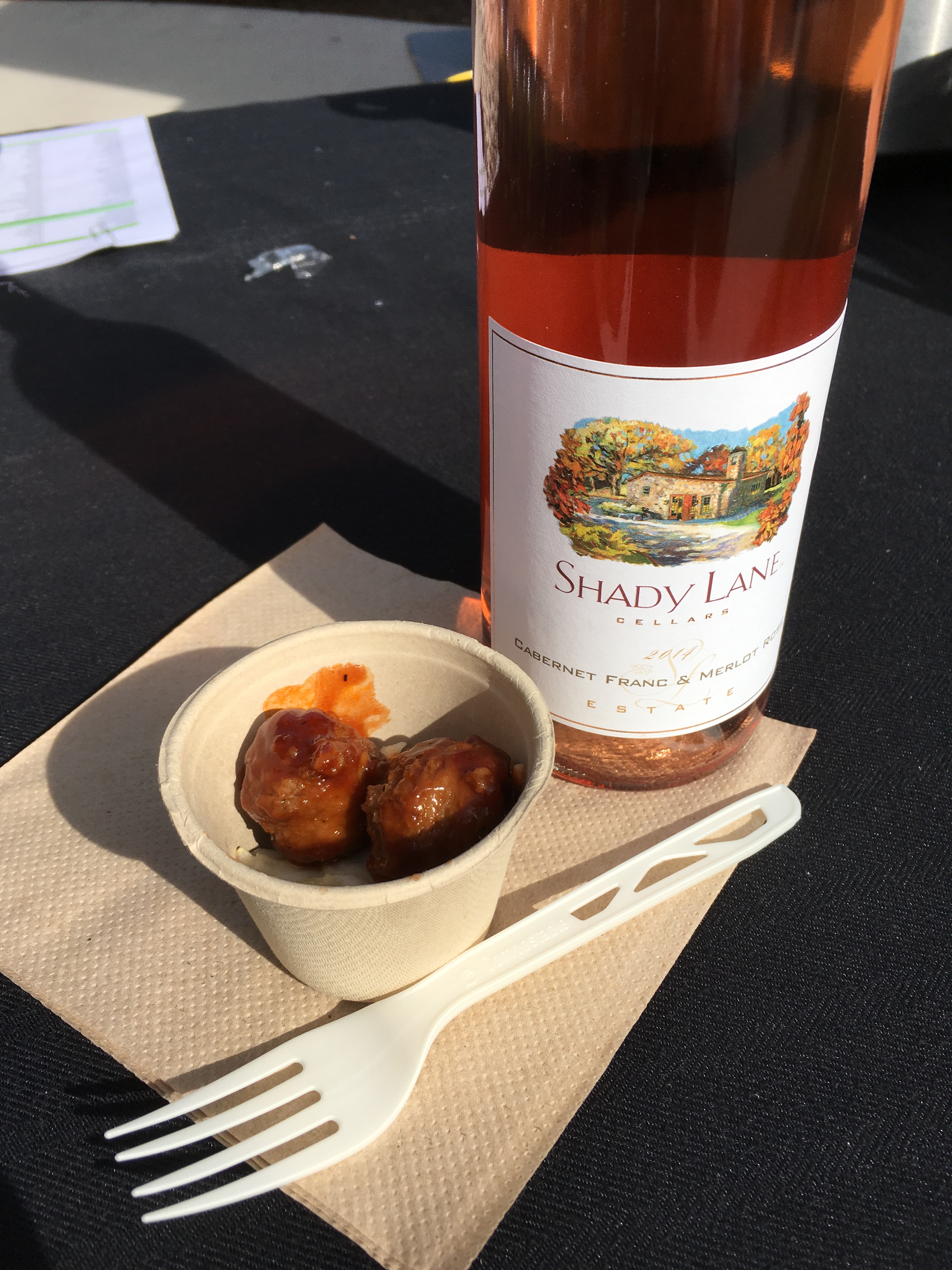 Whether you attended the annual Leelanau Peninsula Sip & Savor event last weekend or wish you had, here are a couple of delicious recipes that will make you feel like you were sitting on our patio.
Spring Sip and Savor 2016
BBQ Meatballs with Tangy Ginger Slaw
Meatballs
Ingredients
2 pounds lean ground beef
8 ounces ground pork
2 cups Italian flavored breadcrumbs
1 cup milk
1/2 cup fresh parsley leaves, finely chopped
4 medium eggs, lightly beaten
2 cloves garlic, minced
1 medium onion, minced
Salt and pepper to taste
Directions
Preheat the oven to 350 degrees F.
In a large bowl or mixer, thoroughly mix the beef, pork, breadcrumbs, milk, parsley, eggs, garlic, onion and some salt and pepper. Chill in the refrigerator for approximately 30 minutes.
Shape into meatballs and place on a foil-lined shallow baking pan. Bake 30 minutes for medium or 25 minutes for bite-size.
BBQ Sauce
Ingredients
2 tablespoons butter
1 small onion, minced
2 cups ketchup
1/2 cup cider vinegar
1/4 cup water
1/4 cup apple juice
1/4 cup Worcestershire sauce
 2 tablespoons brown sugar
2 tablespoons molasses
2 tablespoons honey
2 teaspoons dry mustard powder
1 teaspoon chili powder
1 teaspoon garlic powder
1 teaspoon ground cayenne pepper
Directions
Melt the butter in saucepan over medium heat. Stir in the onion, and cook until tender. Mix in ketchup, cider vinegar, water, apple juice, Worcestershire sauce, brown sugar, molasses, honey, mustard powder, chili powder, garlic powder, and cayenne pepper. Bring to a boil. Reduce heat to low, and simmer 30 minutes, stirring occasionally.
Tangy Ginger Slaw Vinaigrette – Great with Cole Slaw and Broccoli Slaw Mix
Ingredients
1/8th cup Honey
4 Tbsp. cider vinegar
1 tbsp. Dijon mustard
1 teaspoon celery seed
1/2 teaspoon salt
4 tbsp. Olive Oil
1 tsp. Minced Fresh Ginger
Directions
In a small bowl, add honey, vinegar, mustard and celery seed and ginger.  Whisk rapidly until all ingredients are incorporated.  Continue whisking, and slowly add the olive while whisking.  Continue whisking until completely emulsified (one consistent texture).  Salt to taste and pour over your desired slaw, try broccoli slaw for a crisp and refreshing summer snack.

Well, there you have it! A yummy summer dish perfect for your patio or ours. Let us know if you love this recipe!
-Rick DeBlasio

General Manager - Shady Lane Cellars