Thursday June 23, 2016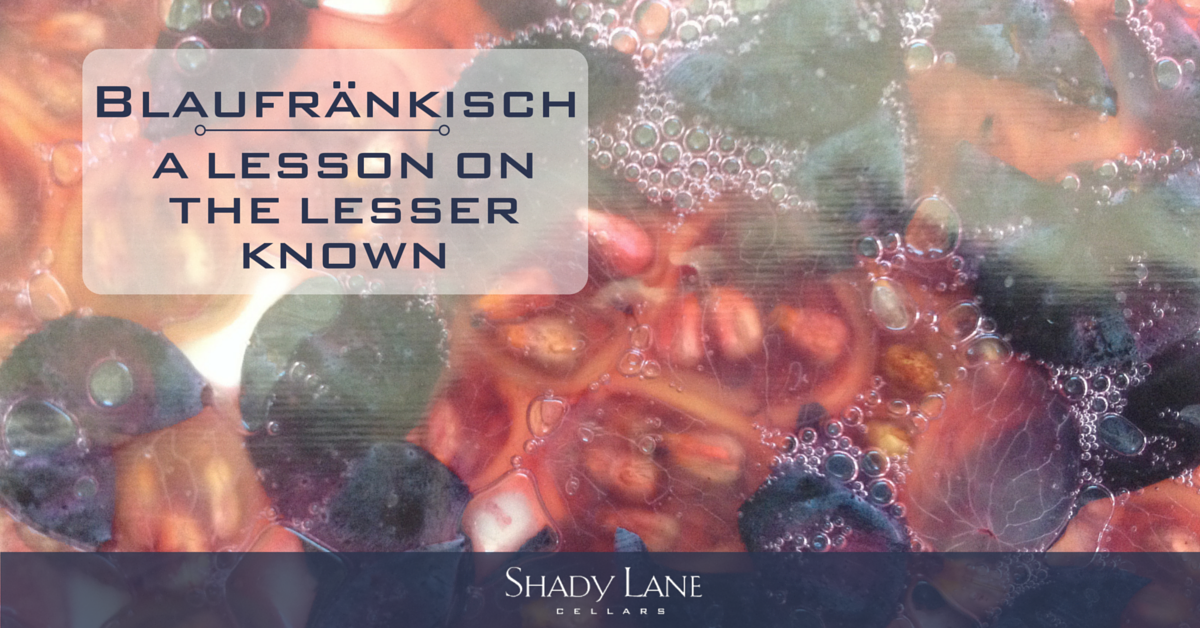 Blaufränkish: A Lesson on the Lesser Known
"Alright class, now everyone repeat after me. Blaufränkisch; that's Blahw-FRAHN-keesh."
Ah, Blaufränkisch, the king of the lesser known wine grape varieties.
Although we're still learning about this grape, the Austrian winemakers have been giving it the credit it deserves since the 18th century.
Blaufränkisch happens to be one of Austria's flagship red varieties, with over 322,000 acres planted.
Here at Shady Lane Cellars, we have a modest 3-acre plot of Blaufränkisch, otherwise known as Lemberger in Germany, and although our plot may be small, it produces wine with big personality. The Shady Lane Cellars Blaufränkisch is a dark red wine with layers of blueberry, blackberry, and mulberry fruit. A hint of black pepper and cedar spice finish this wine with aged, lush tannins and big mouthfeel.
Harvesting and Processing
At the end of October, the Blaufränkisch harvest marks the switch from harvesting and pressing white varieties to harvesting and crushing our reds. It is at this point that our hands become stained with the deep purple of this beautiful grape through a careful 10-step process: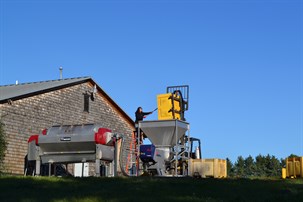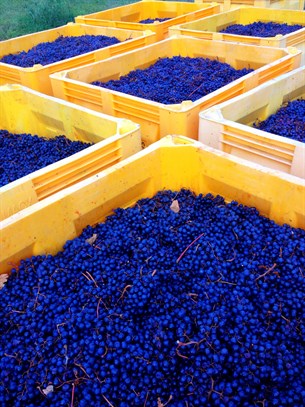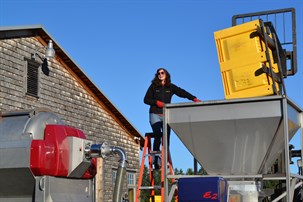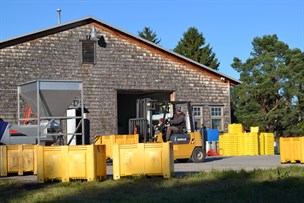 1. As the grapes come in from the vineyard, they are kept cool in the winery.
2. We then send the fruit through the de-stemmer which gently removes the grapes from the rachis or stem.
3. The fruit is then pumped into open-top fermenters where it undergoes a three-day cold soak to extract and fix color before the fermentation begins.
4. Yeast strains are carefully chosen to create an aromatic red with fruit forward flavors and finishing spice. Blaufränkisch provides lush, long-chain tannins as a foundation for a big full bodied red wine.
5. After primary fermentation the must, wine with skins and seeds, is then gently pressed into French oak barrels.
6. Secondary fermentation or malolactic fermentation is then encouraged by inoculating the wine with malolactic bacteria.
The bacteria "eat" the malic acid resulting in the byproducts of lactic acid and carbon dioxide. Malic acid is the principal acid found in apples; it is stronger and more intense. Lactic acid is the predominant acid in milk products like yogurt and is much more subtle. This shift in acid creates a more approachable wine and provides an opportunity for expression of tannin and other elements that provide structure.
7. After malolactic fermentation, the wine is allowed time to settle in barrel.
8. It is then racked off the heavy lees, sulfured for protection and then placed back in barrel for aging.
9. After aging 18-21 months in barrel, the wine is lightly filtered and bottled.
10. The wine rests in bottle for another 6-12 month before it is released for sale.
You can enjoy our Blaufränkisch and Franc 'n' Franc, our proprietary blend of Cab Franc and Blaufränkisch, at the Traverse City Wine and Art Festival, June 25th. Be sure to join us for the Not-So-Common Wine Varietals tasting, where Shady Lane Cellars will be featured.
Get your tickets for the Traverse City Wine and Art Festival here: http://traversecitywinefestival.com/
Kasey Wierzba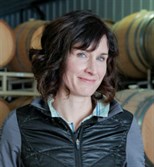 Winemaker - Shady Lane Cellars