Sunday November 27, 2016
As 2016 comes to a close and we reflect on the past year, we can't help but feel an overwhelming sense that something new and extraordinary is taking place.
It is hard to put this season in perspective without framing it with the hardships and challenges of 2014 and 2015. It was as if nature herself knew it was time to ease up, and push on. We emerged out of what had been two of the most challenging, and lowest yielding harvests in 25 years at Shady Lane Cellars to what may have been the largest ever for our winery. Led by owner Richard Fortune, 2016 was about making connections with our guests, to this place, to our people, and with our wine.  Everything handcrafted and cultivated, from the ground up.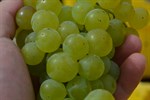 Driven by long hot and dry summer days, the fruit ripened to exceed expectations and came in at welcome and high levels of quality. Our Winemaker Kasey Wierzba (who took the reins after the departure of longtime Shady Lane Cellars winemaker Adam Satchwell) and Vineyard Manager Andy Fles were challenged by our large quantity of fruit and boutique facility. Relying on their collective experience (and a little creativity) all our fruit has found a home and is on its way to creating what is shaping up to be an exceptional vintage.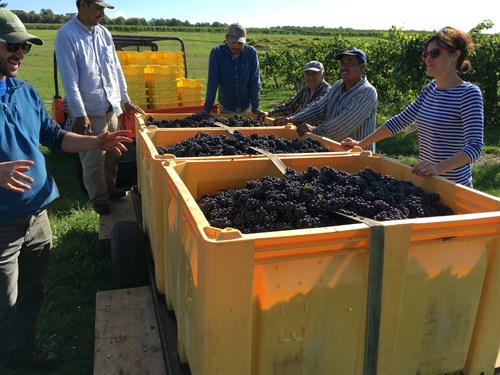 Our sister site Hennessy Harbor Vineyard came fully online this year as well.  Adding 14 acres of fruit to our harvest and bringing some exciting new additions to us.  Kasey is ushering along Chardonnay and Pinot Gris that will emerge with our 2016 vintage adding some exciting new depth to the line-up.

Our guests and customers drive our passion and 2016 brought with it great joy in the company of all our patrons. We continued the fun with Music on the Patio all summer and hosted our 2nd annual Wine Club Dinner and our first ever Shrimp Boil. We look forward to continuing to grow and expand opportunities like these to connect with our members and guests.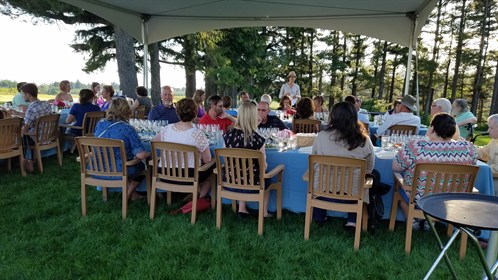 Harvest always carries a sense of accomplishment and even some relief, but it also represents the crossing of another threshold. Grapes become wine, 2016 moves to 2017 and now we look to the bright path ahead.
Cheers and thank you from the team at Shady Lane Cellars!
Richard Fortune – Owner/Proprietor
Rick DeBlasio – General Manager
Kasey Wierzba – Winemaker
Andy Fles – Vineyard Manager
Nicole Thomas – Tasting Room Manager
The Vineyard Crew and Tasting Room Staff