Monday February 6, 2017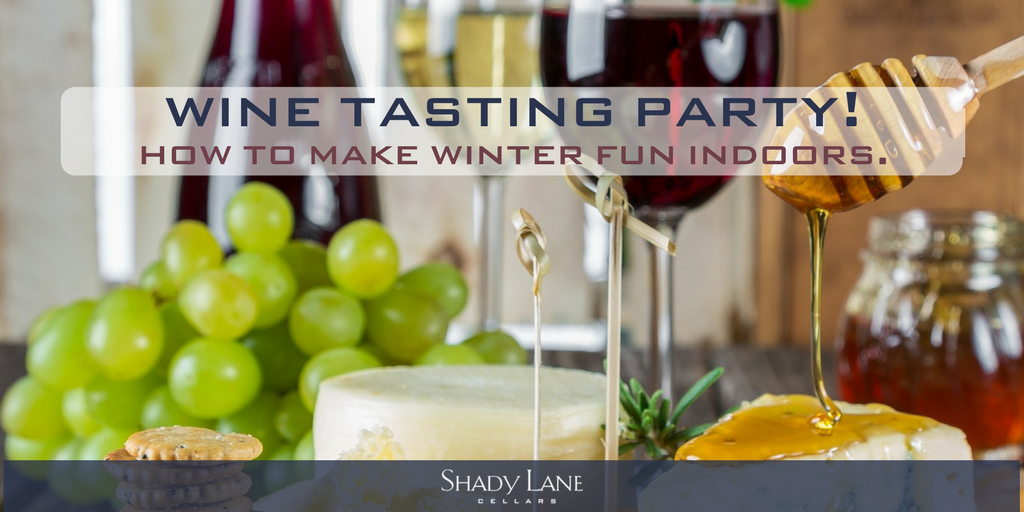 Wine Tasting Party! How to Make Winter Fun Indoors.
It's cold; it's dark, and the snow is a sloppy mess. Down and out, you might also be experiencing the post-holiday blues, or a simple lack of vitamin D has you hunkered down binge watching all seven seasons of Mad Men or worse, Friends.
There is a cure. It's simple, it's fun, and it will boost your popularity with minimal effort. Host a wine tasting! OK, before you dismiss this fantastic idea please know that the hardest part about hosting a wine tasting is you will have to do a little house cleaning. Besides that, it's simple.
The Host (you) provides the format.

All guest pitch in and bring wine, maybe food as well.
Below I have outlined a couple different approaches to hosting a wine tasting. The wine is the foundation, the rest will follow. Get creative and have fun.
Classic and Refined
This is always a "safe" approach to a wine tasting party. It's well suited for work colleages, in-laws and anyone who should stay safely in their comfort zone. When you are inviting guest, assign them a general wine style suggestion. For example, refreshing white, dry rose', bold red, bubbles… There are several reasons for this, the first being variety. You don't want 10 California Chardonnays and one Merlot. Second, it provides your guests with a little information as they enter the local wine shop (for some this might be a little scary). To accompany the wine, each guest should pair with an hors d'oeuvre to share.
Competitive Comrades
We all have those friends and family members that appreciate some solid competition. This wine tasting format will satisfy the champion softball team, the fastest beer league skier and the dictionary checking Scrabble winner. Here's how it works. Each guest brings a bottle of wine paper-bagged so that the label is hidden. The host will set the wines up in a good tasting order; light whites, oaked whites, rose', lighter reds, bold reds. The bags then get numbered. Each guest will have a score sheet numbered to coincide with the wine bottles. The guest then makes their best guess as to what type of wine it is. They also vote for their overall favorite. After some good tasting, it should be entertaining to announce the winners. There should also be a bargain bottle winner, where the least expensive wine bottle is recognized. Get some goofy chachkies to award the winners.
Sip, Samba, and Swing
Yes, this involves dancing and is my favorite of all the wine tasting party formats mentioned here. Each guest brings a bottle of wine and a short music playlist. The guest should be assigned a music genre, and the wine should in some way reflect the music. Maybe each guest could explain their music-wine pairing; that should be entertaining enough! Each wine and playlist are featured throughout the night. Remember dancing is a must, so keep the tunes funky.
If all this is still too much work, get your friends together and join us at Shady Lane Cellars. We have wonderful cheese plates and snacks, and we can turn the tunes up a little louder as well. Happy Winter!
Cheers!
Kasey Weirzba

Winemaker - Shady Lane Cellars