Saturday August 20, 2016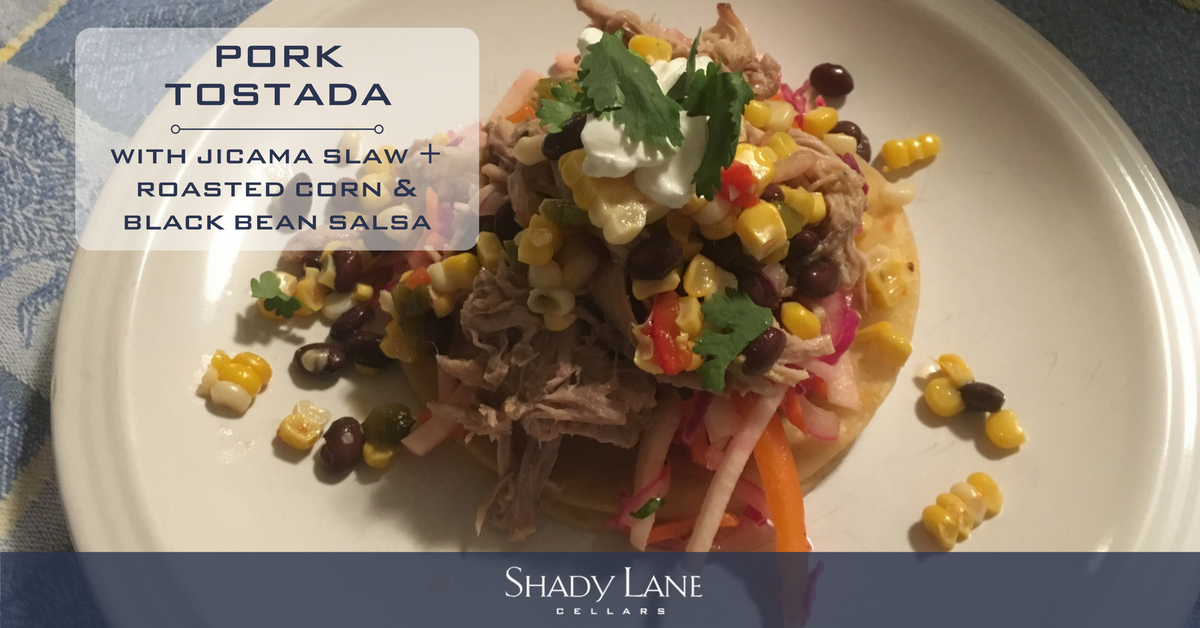 Whether you made it to the Small Plates event this year, or missed it, check out this great recipe for a delicious Pork Tostada served with jicama slaw, roasted corn and black bean salsa and grilled pineapple.  
Follow along below for easy steps to prepare this simple and fresh dish. With three recipes in one you can customize your own preperation.  We paired this dish with Shady Lane Cellars 2014 Muscat, and 2014 Pinot Noir Rosé for a light refreshing match, sure to be a crowd pleaser at your next party!
---
Jicama Slaw
Ingredients
2 carrots, peeled and julienned
1 small jicama (about 1 1/4 lbs.), peeled and julienned
1 large red bell pepper, cored and very thinly sliced
1/4 head red cabbage, cored and very thinly sliced
1/4 red onion, small diced
6 tablespoons olive oil
6 tablespoons unseasoned rice vinegar
3 tablespoons fresh lime juice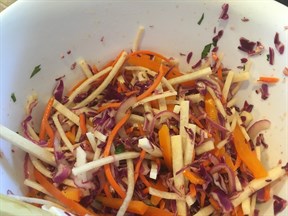 1 tablespoon minced cilantro leaves, plus more for garnish
1 teaspoon salt
1 teaspoon freshly ground black pepper
1 tablespoon honey
1/2 teaspoon chili powder
1/2 teaspoon red chile flakes
Preparation
In a large bowl, combine, vinegar, lime juice, minced cilantro, onion, salt, pepper, sugar, chili powder, and chile flakes and honey.  Whisking vigorously, slowly add in your olive oil.  Add all of your vegetables and stir for even distribution and an even coating.  Will hold for a few days and the flavors will get more incorporated if you allow to marinate, so save some time and prepare this in advance. 
---
Roasted Corn and Black Bean Salsa

Ingredients
3 ears of corn
1 bell pepper – red or orange adds a nice pop of color to the plate
1 Jalapeno – 2 will kick up the heat a notch
1 shallot minced
1 can black beans
1 healthy tablespoon of honey
2 limes
1/8 cup of olive oil
5 mint Leaves
Preparation
Soak the corn in the husks in water for about 10 mins, Cut the peppers in half and remove the seeds, Roast the corn in the husks and peppers on the grill, once the husk is black the corn should be done and once the skin on the peppers are black the peppers should be done, (for more heat roast the jalapeños whole, for less, cut in half and remove the ribs and seeds) remove the peppers from the grill and seal in a plastic bag for about 10-15 mins, remove the peppers and peel the skins off, cut the corn off the cob and dice the peppers, put aside in a bowl.  Rinse the black beans and mix in with the vegetables. 
Vinaigrette
Add the honey, juice from 2 limes, and shallot in a bowl, along with the chopped mint, whisk in olive oil slowly, then salt and pepper to taste. 
Add vinaigrette to vegetables and mix evenly, let cool in the fridge.  Salsa should sit, cool and marinate for at least 1 hour before service, but it is super easy to make a day ahead of time and really let the flavors soak in.
---
Pork Carnitas

Ingredients
1/4 cup olive oil
4 pounds pork shoulder, cut into several large pieces
Kosher or sea salt
Black Pepper
2 onions, chopped
2 cloves garlic, crushed
4 Jalapeños, chopped
1 lime
2 tablespoon chili powder
2 teaspoon dried oregano
2 tablespoon ground cumin
4 (14.5 ounce) cans chicken broth
2 cups white wine
2oz Tequila
4oz Apple Cider Vinegar
2oz Rice Wine Vinegar 
Preperation
Marinate the Pork
In a large bowl combine the tequila, apple cider vinegar and rice wine vinegar and juice of 1 lime.  Next, add 1 onion, 2 jalapeños, and 1 clove of garlic.  Mix lightly to ensure everything is coated.  Now add 1 Tablespoon cumin, 1 Teaspoon of oregano, 1 tablespoon of chili powder, and 1 tbsp. of salt and 1 tbsp. of pepper, and approximately 1 teaspoon of lime zest.  Mix all ingredients so they are evenly distributed more or less.  In a large sealable freezer bag (big enough to hold the pork), place the pork shoulder and cover with the marinade.  Try as best you can to ensure an even coating.  Place in the refrigerator and allow it to marinate for at least 2 hours, but up to 12-16 hours.  Because the liquid will settle in the bag, flip it over halfway through.   
Cooking the Pork
Add olive oil to a large Dutch oven over medium heat.  Add the remaining jalapeños, onion and garlic.  Season lightly with salt and pepper and add the remaining dry ingredients.  Stir regularly to ensure the vegetables do not burn and allow to sweat and lightly cook.  After approximately 5 minutes, separate the vegetables to the sides of the Dutch oven and place the pork in the center (keep marinade on side).  Allow pork to brown on all sides.  Once the pork has browned, deglaze with the leftover marinade, pouring it into the dutch over, and using a wooden spoon scrape the bottom of the pan to release any little bits.  
Pour in the white wine, and add chicken stock until the pork is covered.  Cover as much of the pork as the Dutch oven will allow, leaving enough room for the liquid to boil.  Bring to a boil, reduce heat to a simmer, cover, and continue to simmer until pork is very tender, about 2 1/2 hours.
Check to make sure the pork is tender and pulls away from the bone and itself easily. Transfer the pork shoulder to a large baking sheet, reserving the cooking liquid. Drizzle with a small amount of the reserved cooking liquid and lightly season with salt.
Bake the pork in a preheated oven 400° until browned, 10-15 minutes. Drizzle more of the cooking liquid on the meat every few minutes to ensure the meat does not dry out.  Use forks to shred the meat once complete.
---
Tostada Preparation
 Additional Ingredients
1 Pineapple, skinned, cored, and sliced into ½ inch wide circles
Small Soft Corn Tortillas
Sour Crème
Fresh Cilantro
Olive Oil
Preparation
In a small non-stick pan on medium-high heat, add a teaspoon of olive oil as needed and toast the corn tortillas on both sides until they show light brown spots and begin to firm up, but remain pliable.  
On a hot grill (you can utilize the same non-stick pan if a grill is not convenient), place the pineapple and quickly grill on both sides, caramelizing some of the edges.
Place 1 corn tortilla on a plate and add approximately 1/8 cup of jicama slaw on top.  Next add a 1/8 to a ¼ cup of the pork carnitas.  Place 1 pineapple on top of the pork adding the approximately 2 tablespoons of corn salsa on top of that and lastly top with a dollop of sour cream and some chopped cilantro.