Friday May 6, 2016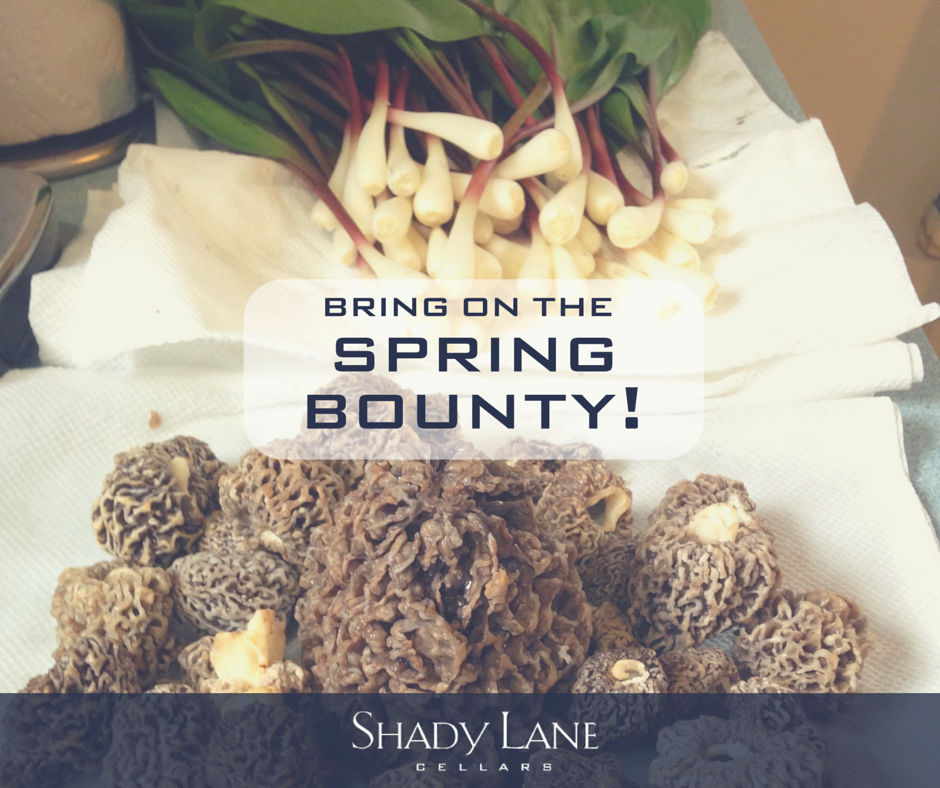 Savory Morel and Ramp Risotto
Once spring arrives Up North everyone starts to go crazy about foraging.  2 of our greatest wild treasures are the much-coveted morel and the widely available ramp.  The subtle, delicate lightly earthy, lightly umami morels with their crinkly exterior and soft texture are a culinary bounty worth searching for.  Pair them with the wildly abundant ramp, a wild relative of the leek, and you have a match made in nature.  Bring it all together with wild morel and ramp risotto and you have memorable dish for any table.
I remember watching my mother make risotto for the first time.  She slowly stirred, added liquid little by little, never stopped working.  Risotto starts and stops with the rice.  At its best is a beautifully creamy, rich, and delectable treat that can take on all sorts of flavor profiles and elevate a wide range of ingredients.  At its worst it's sticky, dense and flavorless, but we don't need to talk about that…
It's about coaxing the starch out of the rice, enough to make it creamy.  This takes finesse.  You can talk to uncle ben about closed tops and time limits, but risotto requires a little more attention.  You need to bring it flowers and whisper sweet nothings into its ear. You have to be patient and attentive, don't rush it, but don't neglect it.  If you work it right, you will be rewarded, along with all those you choose to share it with.
Ingredients
2 Cups Chicken Stock
1 Cup White Wine (Try Shady Lane Cellars Semi-Dry Riesling)
3 cups Arborio Rice
½ Cup Wild Ramps, small dice (use leeks for an easy substitute from your local grocery store)
½ Cup Wild Morels chopped (Try Shitake, Maitake and Crimini mushrooms as a substitute)
1 shallot, minced
2 tbs Fresh Sage
3 Tbsp. Olive Oil
1 tbsp. butter
Salt
Pepper
Instructions
In a medium saucepan add the butter and allow to melt on medium heat.  Next, add your diced ramps to the butter and slowly sweat, approximately 4 minutes.  Then will turn the heat up slightly and add your morels. Allow to sauté until tender, but not overcooked, approximately 5 minutes.  Once cooked, remove the ramps and morels from your pan, drain all liquid and add your chicken stock and wine, set aside ramps and morels for now.
Add olive oil to your medium saucepan on medium heat, allowing oil to warm up.  Add rice to oil and slowly toast for approximately 2 minutes.  Next add your shallot and sage, and allow to cook down with the rice, about 2 minutes.  Now it is time to begin adding liquid, this will happen little by little.  First add enough to just cover the rice (white wine or chicken stock, you will use both).  Continue stirring and allow the rice to absorb all of the liquid.  Once the liquid has been absorbed, repeat that step again until all of the liquid has been used.  Do not add more at one time than what is needed to cover the rice and make sure to continue stirring.  Once you have added about ¾'s of your liquid to the rice, add your morels and ramps back in, stirring to ensure they are incorporated evenly.  Continue adding liquid until all liquid has been utilized.  This whole process should take roughly 30 minutes, don't worry if it takes a little longer, this isn't about time, it is about method.
The risotto is ready when the rice has absorbed the majority of the liquid, but remain slightly al dente (firm, but tender).  The risotto should not be runny, but should have a rich, creamy consistency.  If it happens to be a bit too runny, continue stirring and cook down slightly, if it is too sticky, or the rice is not done, add more wine or stock and cook down as done before.
Lastly, enjoy!
Rick DeBlasio

General Manager – Shady Lane Cellars