Wednesday June 15, 2016
Have Fun!
Lastly, and most importantly have fun!  If you have fun, your guests will have fun, and come on, that's why you decided to do this in the first place.  As the host you set the tone for your event. So this summer, take charge, plan ahead, invite your friends and make some memories because that is what life is all about!
Melon and Prosciutto Skewers
Ingredients
1 Whole Melon – (cantaloupe works great)
½ lb Prosciutto di Parma
Fresh Mozzarella Bocconcini (bite size balls)
Fresh Mint
Honey
Bamboo Skewers
Directions
Using a small melon baller (if you don't have one, the melon can be diced into approximately ½" - 1" cubes).  Slice the Mozzarella into halves.  In this order, on a skewer, place 1 melon ball, 1 ripped section of Mint leaf (approximately the size of a quarter), approximately 1/5th portion of 1 slice of prosciutto, and 1 half of Mozzarella. Repeat until you have your desired number of skewers.  Drizzle with honey and serve.
Wine Pairing: Shady Lane Cellars 2014 Sparkling Riesling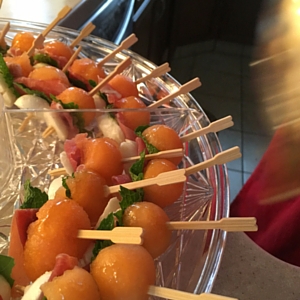 Rick DeBlasio

General Manager - Shady Lane Cellars