Wednesday June 8, 2016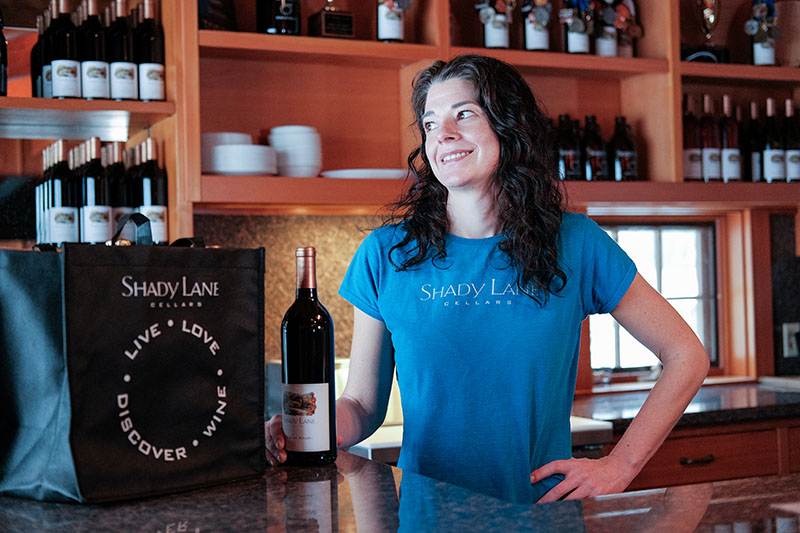 Each of our staff members play an important role in the daily workings of our vineyard and winery, and we think it's about time you learn a little bit about some of them!
We caught up with our Assistant Tasting Room Manager, Nicole Thomas, and asked her a few questions about herself, her time with Shady Lane Cellars, and what's ahead of her!
---
As the face of Shady Lane Cellars, what do you love the most about being at the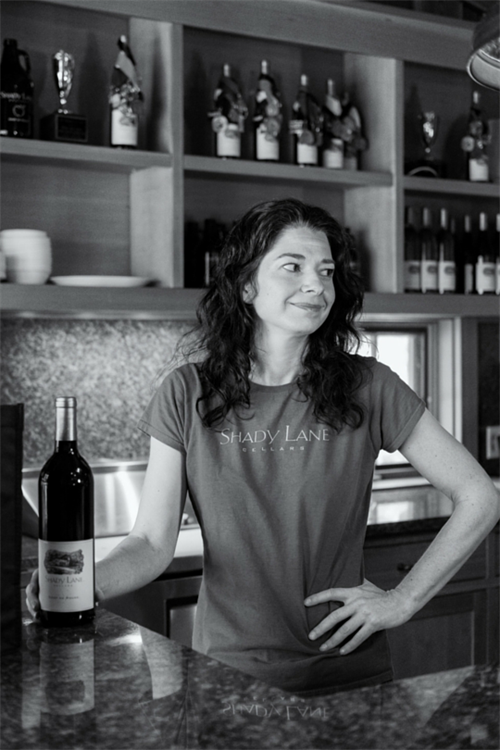 tasting bar?
Nicole: I would have to say that I enjoy seeing our regulars the most. We have customers who have been coming to Shady Lane since they first opened. It is fun to get to know them on a more personal level, many of them had young children when they started coming and now are bringing them in for tastings as they have grown. You also get to know their tastes so well you know exactly what they like and which new wines they will be excited about.
We also get the opportunity to meet people from all over the U.S. and even other countries. It is great to talk about the wines they enjoy from the regions they live in.
What excites you about being part of the Shady Lane Cellars team?
Nicole: It is a lot like having a whole other family. Everyone is very supportive of each other; you really feel like your opinion is valued by Rick and the other staff members.
It has also been great to see all the great changes happening, from the expansion of the outdoor patio to the addition of new wines and ciders. I am excited to see what new things will come in the future.
You've been with us for a while now. What drew you to SLC in the first place and why do you stick around?
Nicole: To be completely honest I wasn't looking for a job in the wine industry; I had lunch one day with a friend of a friend who happened to be the Tasting Room Manager at the time, and she asked if I was looking for a job. I knew nothing about wine at the time and was probably barely old enough to drink it.
I continue to stick around for a lot of reasons, mainly our guests. As I said before, I enjoy seeing familiar faces and new faces as well. After all this time I am constantly learning new things about wine and farming, and it is great to be able to pass that on to our guests.
When you're not slingin' sips, what do you like to do for fun?
Nicole: I am an outdoorsy kind of girl. I like most things that get me outside, maybe not so much in the winter.  There is so much to do in this area if you like to be outdoors, camping, hiking, beaches and fishing. I definitely make sure to bring my dog, Izzy, along.
Do you have any tips for would-be bartenders or pourers just starting out?
Nicole: Get to know the wines in the area; it is important to be able to help your guests find the wines that fit their tastes.
Just as important is to have fun with it, A lot of times people who are new to wine tasting can feel intimidated, and it should be fun and educational. Most of our guests are in the area on vacation, and they are looking for a little fun and relaxation along with the opportunity to learn about the great wines our area has to offer.
Stop by and visit Nicole in our Tasting Room this summer!